Make the Office Split A Gut With Your New Desk Name Plaque
Do you have an inside joke with a coworker or a funny nickname you call a friend in the office? What better way to highlight the comedic elements of a day in the office than with a desk name plaque including your joke? That's what 216digital did with their employee, Alex.
At one point, Alex was the new guy at 216digital, a web development firm based out of Cleveland, Ohio. He interned as a web developer from May 2014-December 2014, and then became a full time member of the 216digital team. Although plenty of new members have come onto the team since Alex's internship ended, he will always be the "new guy" who's still learning the ropes even if he isn't. Despite his knowledge for all things code, his coworkers tease him about being new, and Alex plays along because it's all in good fun. So, to make it official, they got Alex a name plate for his desk to solidify his title.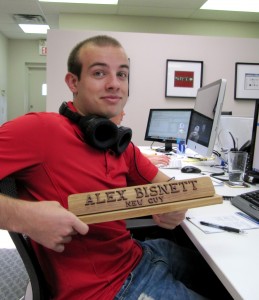 "Alex Bisnett: New Guy" is his official desk name plaque title. Although he was surprised at getting the name plate for his desk, in the end, Alex owns his title and appreciates his coworkers' joke. Now, he sits with pride behind his desk name plaque, forever known as the "new guy" in the office.
Do you have a coworker with a quirky trait that would love to have a name plate? Send them over to us! Nameplates.biz has a variety of different customizations to make your name plate for the desk a work of comedic genius. Everyone needs a laugh. Get your laugh with a funny desk name plaque, and you'll have the entire office roaring. Allow your creativity to flow as you browse our many sizes and styles. Pick up a name plate for the desk of a coworker today!