When you move up in the corporate world, you want to have an office that reflects you and the hard work that you do. Whether you choose to decorate your office with photographs of your family, plants, or hobby-related knick knacks, your office should say something about your personality. And, this is why a custom desk name plate is exactly what you need in your office. A plastic name plate that is the same as everyone else's doesn't say much. It says that you are just a normal employee, someone who settles for the average. A custom desk name plate connotes that you think outside the box, that you are creative, and that you are unique. A custom desk name plate will also help people remember your name better and could become a conversation starter. After all, would you remember the name plate that you have seen in a million different offices or the one that is unique and customized more?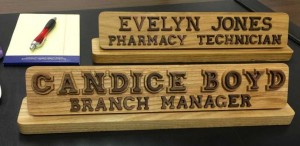 The custom desk name plates that we make are high-quality wood and are handmade by our skilled artisan craftsmen. They are timeless, and we use two different types of wood to ensure that your name and position will stand out. We also use a unique oil finish that makes the wood grain as prominent as possible and bring out the natural beauty of the wood. We take pride in our wood stockers, which are from all parts of the United States, and are proud to say that our products are all made in the USA. Think of everything that a custom desk name plate could say about you: it says that you are proud of your country, that you stand out among your peers, that you are a hard-working and tireless employee, and that you have natural talent. This is much better than the boring message a metal and plastic engraved name plate that has absolutely no personal touch and is standard sends.
Give us a call and begin working on the design of your custom desk name plate. Our representatives want to talk to you and help you choose the design that is perfect for you and your office. Whether you are a doctor, lawyer, manager, or anything in between, the desk name plates that we have will help you get recognized and be remembered. And, if you are a friend, spouse, or significant other of someone who is graduating medical school, law school, or professional school, think of how grateful they would be if they had a name plate in their office that reflected their values. Get started working on a custom desk name plate that will be the centerpiece of your office—next to you, of course!